Evolution Episode 006
Monday February 15th, 2016
The INTrust Bank Arena
Wichita, Kansas, USA
——————————————————————————————————————————-

BACK FOR VENGEANCE
FWI Evolution Episode 006 opens up with Michael Cole and Jerry "The King" Lawler. They introduce us to the show and then run off with a bunch of topics before the arena goes pitch black. Everyone is wondering why and what's going on. Just then some theme music hit's and the titantron lights up the arena and the crowd goes INSANE! "Cult of Personality" blares through the speakers and it can only be one man…C…M…PUNK!
Michael Cole: "Oh my it can't be! Is he really back?"
Just then out from the back comes CM Punk, the former WWEF Champion. Punk takes a few steps and then stops at the top of the stage. He looks around at the crowd and takes a few moments to breathe it all in.
Jerry Lawler: "It is him, Cole! CM Punk is back!"
CM Punk now makes a slow walk to the ring and eventually steps inside. He looks around and listens to the fans roar with cheers for him as his music plays in the background. As soon as his music begins to fade the buzz in the arena is really heard. Even CM Punk chants are started as Punk stands there and can't help but smile. He then walks over to the edge of the ring and is handed a microphone.
CM Punk: "My gosh that was wonderful! Hey guys, it's been a long time huh? Hahaha that's right…I'm back!"
The crowd takes it all in and continues their "PUNK" chants over and over again.
CM Punk: "Yeah it's been quite some time, hasn't it? You know…I was so close to signing with the UFC. Going over to the MMA Sport and trying out my luck there. Until I got a phone call, haha. It was a very funny one too and I mean, I'm not an easy man to make laugh. Shane Douglas called me up. He said he had a job for me. At first I was thinking…wrestling again? No…why? What haven't I accomplished? But then he asked me about Vince McMahon…and what a conversation that was…"
Punk pauses, smirks to the crowd and then continues when ready.
CM Punk: "And then I got thinking…okay Douglas now has 51% of the company. And Vince has 49%. Therefore, Vince you can't touch me…you can't screw me like you did for so long. I was the WWE Franchise Wrestling Champion. Guys like me and AJ Styles weren't suppose to succeed, but we did. We outshined all the other wrestlers because we're the best in the world. So if the fans want to thank anybody for my return, then thank The Franchise Shane Douglas."[/color]
A big "THANK-YOU" chant starts in the arena now as Punk soaks it all up.
CM Punk: "I mean, what better way to return then to piss off Vinnie Mac? It's just priceless for me…so now that I'm officially back I've gotten my first official match, I'm ready and pumped up for it. And it's up next…"
Just then we see Punk drop the microphone and take his sweater off. He starts to get loosened up in the ring as his first opponent Kevin Owens is about to make his way out. What a match to kick off the first Evoluton televised event!
——————————————————————————————————————————-

FWI SINGLES MATCH
CM Punk vs Kevin Owens
The opening bout at Evolution saw two great superstars and athletes in the returning CM Punk and the still freshly new Kevin Owens. Both men were looking to start off the road to Ultimate Fortune on the right foot. So much so that the two traded blows and maneuvers from their arsenals that kept the other one going. Back and forth paced action allowed the fans to see a good 12 minute match where a lot of false finishes took place. Punk hit the GTS while Kevin Owens hit the pop up powerbomb several times. Both men were not ready to lose on this night and eventually things boiled over to the outside of the ring where they began to just fight and fight until nobody was a winner. This match ended in a DOUBLE COUNT-OUT DRAW! But the fight continued until referee's held them both back. Maybe a rematch is in store soon?
Result: Double Count Out Draw
——————————————————————————————————————————-

ONE MORE CHANCE
Following tonight's opening bout we see FWI reporter, Renee Young standing by with FWI Superstar, Bully Ray.
Renee Young: "Ladies and Gentleman I'm standing next to Bully Ray who had a major World Championship match against Brock Lesnar this past Sunday at Total Elimination. Bully you came so close to winning the gold, what's next for you?"
Bully looks distraught and quite upset about the whole ordeal…
Bully Ray: "What's next for me? Well quite frankly Renee, I'm pissed off! What's next for me is Brock Lesnar's ass on a silver platter. I plan on tearing him limb from limb and I'll do that tonight in the main event tag match, as well as Kurt freakin' Angle."
Renee Young: "Speaking of Kurt, he is now the number one contender to Brock Lesnar and his World Championship at Ultimate Fortune. What do you think about that?"
Bully shakes his head in digust.
Bully Ray: "Now do you maybe understand why I am so mad? Kurt Angle doesn't deserve anything. That man is not the true number one contender, I am! I was never pinned nor beaten at Total Elimination. I beat Brock Lesnar by disqualification, therefore I should be the first one in line for a title shot. Ultimate Fortune should be my rematch with Brock not Kurt. I just want one more chance."
Renee Young: "And lastly, your partner tonight is Triple H…your thoughts on that?"
Bully Ray: "Come on Renee, does it really matter who it is? Yes okay Hunter has had some issues as well with Team World Class, but it makes no difference if my partner is Spike Dudley for crying out loud. I am seeing double tonight and that's not good news for Team World Class. Brock Lesnar, your ass is mine!"
Bully now storms off as Renee concludes the interview and the action heads back out to ringside with Michael Cole and Jerry Lawler.
——————————————————————————————————————————-

FWI INTERCONTINENTAL #1 CONTENDER'S MATCH
Jake "The Snake" Roberts vs Stone Cold Steve Austin
A rematch from weeks ago when Jake "The Snake" Roberts beat Stone Cold Steve Austin in the Total Elimination tournament. Jake went on to unfortunately not win the tourney while Steve Austin was lost in the shuffle of things. Tonight Austin was trying to get his name back on the win column but the problem was, so did Jake. The two had a great match of psychology and it lasted about 10 minutes long. A great TV match for the FWI fans in the arena and at home watching. Just an example of the action you can be seeing on television now that the company had struck a deal with the USA Network. Unfortunately this match didn't go anywhere much like the CM Punk and Kevin Owens one. It ended when both men went for a move and at the same time their shoulders were down for the count of 3 on the mat. It came down to being a DOUBLE PINFALL DRAW. After the match Jake when for a hand shake but was met with a Stone Cold Stunner.
RESULT: Double Pinfall Draw
——————————————————————————————————————————-

A TURN UNEXPECTED
As the match is over and the glass shatters, Stone Cold Steve Austin is taunting to the crowd. He signals for some cans of beer as he is thrown some. As he bashes them together to take a drink after his match, the music of one John Cena hit's. "My Time is Now" blares through the arena as their is a mixed reaction from the crowd. John makes his way out on the stage and has a microphone in hand. He cuts to the chase and begins to talk as Steve looks behind him quite confused…
John Cena: "Alright now…yeah guys give it up for Stone Cold. The Rattlesnake is back!"
The fans cheer for Steve but also start the infamous "Let's go Cena, Cena Sucks" chant.
John Cena: "Oh yeah, yup…keep that one coming. Been hearing that one for years now guys. But for real, congratulations on your victory Stone Cold."
John begins to clap his hands and smile as Steve is still wondering what he's doing out there.
John Cena: "You know…we've never really had much of a moment together there Steve. Hell we've barely ever crossed paths before. So as I'm sitting back there with no match tonight, and I'm watching yours…I got an idea in my head. A perfect idea actually."[/color]
John stops and let's the silence fill the arena as the fans start to cheer for Austin now who quickly walks over and demands a microphone.
Stone Cold: "What's this idea of yours then, John? Cause so far since ya been out here all I hear is you flappin' your gums."
The fans chant "WHAT".
Stone Cold: "Are you jealous I had a match tonight?"
Another "WHAT" chant fills the air as things seem to be getting more intense now.
Stone Cold: "Do you want me to open a can of whoop ass on ya, son? I got nothing but respect for you Cena but the fact you come out here and interrupt Stone Cold after he opened his beer, UH UH! That ain't gonna happen…….so if y'all want to see Stone Cold Steve Austin whoop John Cena's fruity pebble ass all over this arena, GIMME A HELL YEAH!"
"HELL YEAH!!!!!!" the fans erupt! But John Cena has other idea's…
John Cena: "Whoa whoa whoa…hold on there Stone Cold. You must be in a foul mood tonight or something, Steve. You're right about something though, I did come out here for a match. But not just any match or on any old night either."
John smiles as Steve stands in the ring listening to him, the fans are all ears as well now…
John Cena: "I'm talking about this one dream match taking place at a bigger event…I'm talking John Cena versus Stone Cold Steve Austin at the biggest stages of them all…I'm talking about ULTIMATE…FORTUNE!"
John now points up to the rafters and where the Ultimate Fortune pay-per-view banner is advertised. Stone Cold turns his head and stares at the banner as do the fans who embrace it! They start a "HOLY SH*T!" chant on television now as Steve looks back to John and the confrontation between them just ends in the pure silence that fills the arena. These two mega blockbuster stars could potentially be going one on one for the first time at Ultimate Fortune! Wow what a match that could be!
——————————————————————————————————————————-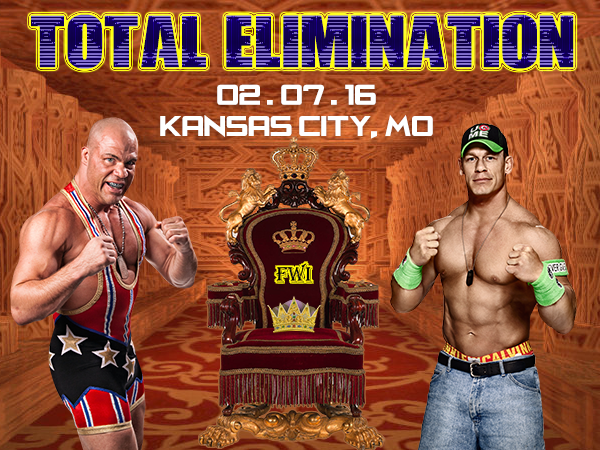 ULTIMATE FORTUNE iPPV AD
Sunday March 13th, 2016 live from the AT&T Center Arena in Dallas, Texas
Franchise Wrestling Inc. Presents: Ultimate Fortune!
LIVE on PAY-PER-VIEW! Watch all your favorite FWI Superstars battle for ring supremacy!
The FWI Mega-Main Event of the Year! So save your money and attend this once in a life time attraction.
——————————————————————————————————————————-

FWI INTERCONTINENTAL #1 CONTENDERS MATCH
Matt Sydal vs Ricky Steamboat vs Seth Rollins
Even though these three competitors are probably banged up from their Elimination Chamber match at Total Elimination. They have a job to do and that's see who's going to become the #1 contender to Chris Jericho's FWI Intercontinental Championship. Y2J needs someone to challenge him for the gold so why not the three guys who stood out the most recently? Matt Sydal, Ricky Steamboat and Seth Rollins. The match consisted of a lot of back and forth action between all three superstars. Wrestlers who can really put on a show for the fans and my gosh did they ever. It was only about an 8 minute match for television but it got the fans wide awake and pumped up. We saw in the end though it was Seth Rollins who defeated Matt Sydal and Ricky Steamboat when he hit a Curb Stomp on Matt Sydal while Ricky Steamboat was down and out on the floor. Seth Rollins won by PINFALL and is now the #1 contender to Chris Jericho's FWI Intercontinental Championship.
RESULT: Seth Rollins by Pinfall
——————————————————————————————————————————-

A SPECIAL HIGHLIGHT REEL
As we return from a commercial break and the camera's are zoomed in on the FWI ring. "Y2J" Chris Jericho is standing in the middle of the ring with his very expensive and fancy looking light up jacket. He has his FWI Intercontinental Championship around his waist and a microphone in his hand.
Chris Jericho: "WELCOME TOOOO EVOLUTION ISSS JERICHO!!!"
A big pop from the crowd as Chris has introduced us to his show.
Chris Jericho: "And welcome to the Highlight Reel everybody. You know, for years I've done this show and had some pretty entertaining guests on my show. But tonight I have one of your own. From Wichita himself, from what I've been told a must listen radio host. A man who works for a company called Radio Xenu. Let's give it up for my very special guest tonight, PIP FROM THE PIP SHOW!"
Just then out from his seat in the crowd comes this man known as "PIP". He climbs up on the ring apron and steps into the ring. Chris Jericho is standing there waiting for him as the fans cheer like crazy for him. PIP waves to the crowd and is full of smiles as Chris continues his Highlight Reel show.
Chris Jericho: "First off, welcome to the show. I know you've been excited to get on here. I know you're from this area and you have tons of people watching right now for you. I also heard from Vince McMahon that you have been a huge fan of wrestling for years and years, especially me Y2J Chris Jericho. I even heard that you like my band, Fozzy right? So let's go ahead and talk about that somewhat…"
Chris now hands over the microphone to PIP who can't seem to stop smiling. He is finally in a wrestling ring, his dream and passion.
PIP: "Thanks first of all to Franchise Wrestling Inc. The Pip Show and Radio Xenu are proud to sponsor this company along with HT Web Design. We've had a lot of hit's on our radio station since the deal came together. And oh man is it ever great being here live at Evolution on television and in this ring!!!"
The fans pop for him and begin to chant his name aloud.
PIP: "As far as all the rest of it…yeah big fan of Fozzy, big fan of wrestling but a huge fan of Chris Jericho? Dude, my favorite wrestler is Triple H!"
Before PIP can continue any further, Chris breaks his silence and responds.
Chris Jericho: "Wait a minute, what? Triple H?! You can't be serious…"
PIP nods his head.
PIP: "I am being serious…and I heard what you had to say about me on your podcast Talk is Jericho, too."
Chris Jericho: "Oh…okay. Well I see. You do realize however that this isn't Radio Xenu and this isn't The Pip Show, eh? This is THE HIGHLIGHT REEL BABAY! And I'm Y…2…J. I'm the best at everything I do and that's why you see this Intercontinental Championship around my waist, Junior!"
Just then Chris drops the microphone and then slaps PIP in the face. The Wichita native doesn't seem too impressed by that and the crowd boo's. Chris then runs at PIP who is ready for it and he nails him with a drop toe hold! He then taunts to the Wichita crowd who support him. He goes to hit the 619 on Y2J who is hung up on the middle rope! Just as he is about to connect though, Chris grabs his legs and stops him! He then drags him into the middle of the ring and goes for the Walls of Jericho! As he is turning him over for it though, Chris Jericho's opponent tonight Dean Ambrose shows up! His music hit's and he rushes to the ring! Chris let's go of PIP and then turns his focus onto Dean Ambrose who tackles him to the ground! He then throws right hand punches while PIP escapes the ring and back to his seat.
Chris Jericho eventually rolls out of the ring as the ring crew now is ordered to come in and clean up the Highlight Reel set. The Chris Jericho versus Dean Ambrose match is next!
——————————————————————————————————————————-

RADIO XENU – THE PIP SHOW AD
Playing new Indie Pop, Indie Rock, Alt, underground HipHop & your requests. Catch the Pip Show live Weds&Thurs on Radio Xenu or the Mixcloud podcast on demand.
https://www.mixcloud.com/thepipshow/
Radio Xenu is an independently owned and operated internet radio station that plays primarily rock, alt rock, electronic, and hip hop music.
Check out Radio Xenu for DJ's such as Pip or other artists like Neesh with the Neeshcast. All of that and so much more entertainment!
——————————————————————————————————————————-

NON TITLE FWI SINGLES MATCH
Chris Jericho (c) vs Dean Ambrose
Following a very crazy and controversial Highlight Reel tonight, Chris Jericho and Dean Ambrose match has begun. The two exchanged in a fight just moments before their match as special guest PIP from the Pip Show was Y2J's guest tonight. PIP is from Wichita, Kansas the host of tonight's Evolution show. After thing's got heated between himself and Jericho, Dean Ambrose came down to save the day. And so this amazing match took place with Chris Jericho coming off a huge Elimination Chamber win to become Intercontinental Champion. Meanwhile, Ambrose came so close to winning it all in the Total Elimination tournament but was bested by Kurt Angle. And earlier tonight, Ambrose brotherhood friend Seth Rollins became the #1 contender to Chris Jericho's title belt. This match was said to be the best one of the night as it went about 13 minutes long. Both men gave it all they had and eventually thing's got quite heated as some action took place outside of the ring. In the end though, when the referee wasn't looking Chris Jericho low blowed Dean Ambrose and then rolled up him up for the PINFALL. This lead to Chris Jericho hightailing it out of there with his title in hand. Next week though it will be Chris Jericho versus Seth Rollins for the Intercontinental Championship.
RESULT: Chris Jericho via PINFALL
——————————————————————————————————————————-

CHANGING LANES
Just as the last match concludes, a camera pans around the corner hiding as we can see Team World Class members Brock Lesnar and Kurt Angle standing in the hallway with Paul Heyman. They seem to be discussing the events at this past Sunday's Total Elimination event.
Kurt Angle: "I'm just saying I'd like to know where the hell you guys were when I needed you!"
Kurt is clearly upset about Brock Lesnar and Paul Heyman fleeing at Total Elimination when Bully Ray chased them to the parking lot.
Paul Heyman: "Let's be real Kurt, you didn't need us. You did just fine out there, and now Team World Class holds the chips to everything in Franchise Wrestling Inc."
Brock turns to Kurt and reiterates what Paul had just said to him.
Brock Lesnar: "Yeah come on, we got this company right where we want it. And besides, now you and I can showcase our true potential skills at Ultimate Fortune. Bully Ray is not worthy of a title shot, but Kurt you are…"
Brock points at Kurt's chest as Angle doesn't seem too satisifed. He then decides to just let it all go as he walks off in preparation for his tag team match up next. Brock and Paul look concerned as things are currently up in the air for Team World Class. Back to ringside for the main event!
——————————————————————————————————————————-

MAIN EVENT – FWI TAG TEAM GRUDGE MATCH
Brock Lesnar (c) & Kurt Angle vs Bully Ray & Triple H
And tonight in Wichita, Kansas the main event was tag team action. Team World Class members Brock Lesnar and Kurt Angle took on both Bully Ray and Triple H. Both sides have been having some issues as of late with Brock Lesnar and Bully Ray fighting and now Kurt Angle is the #1 contender to the FWI World Championship. Triple H was sidelined a few weeks ago with a potential concussion from Kurt. It was later revealed to be minor and nothing serious as Hunter returned to action at the Elimination Chamber match. As they always do, Team World Class dominated most of this match with their tag team skills and dangerous arsenal filled with suplexes. The odd time there seemed to be communication issues especially at the end when Kurt Angle went to tag in Brock Lesnar who left him all alone! Brock had backed off the ring apron and walked away from the match. Why though? Either way Kurt was pissed as Bully Ray hit him with a series of moves before Triple H came in and nailed the Pedigree on him. Hunter then covered Kurt for the 1…2…3. As Team World Class lost and Kurt Angle was humiliated! Either way though, Bully Ray and Triple H pulled out a victory by PINFALL. After the match was over, Brock and Paul Heyman left up the ramp way and headed to the back. Bully Ray celebrated as Triple H did the "SUCK IT" motion. The crowd loved the ending of this match.
RESULT: Bully Ray & Triple H via Pinfall
——————————————————————————————————————————-

ULTIMATE FORTUNE ANNOUNCEMENT
All of a sudden as the show was about to draw to the end, Shane Douglas appeared on the big new FWI Evolution titantron screen. The arena went silent as the music of Bully Ray began to fade.
Shane Douglas: "Well done…"
Shane is seen clapping his hands together backstage in his office.
Shane Douglas: "It looks like you've managed to cross up Team World Class, Bully. You're getting to them, I can see that. You always had more potential then I thought in ECW. And now here in Franchise Wrestling Inc. I'm here to make an announcement regarding Ultimate Fortune."
The fans cheer and listen in closely as does Bully Ray and Kurt Angle who stands on the ramp way now looking up to Douglas.
Shane Douglas: "I've taken it into consideration from what you said earlier tonight, Bully. You got screwed at Total Elimination. You beat Brock fair and square…and he left you high and dry with nothing to show for it. He got disqualified and therefore is still FWI World Champion because of it. And well, you Kurt…you won the Total Elimination tournament. You're now the #1 contender…"
Kurt puts his hands up in the air wondering what the hell this is all about.
Shane Douglas: "I think it looks like we've got a match on our hands, boys…it looks like we've got two men who are legitimate #1 contenders to Brock Lesnar."
Kurt looks upset now as he shouts "WHAT?!" aloud.
Shane Douglas: "Therefore next week on Evolution we're going to find out who the TRUE #1 contender to Brock Lesnar is for Ultimate Fortune. Next week it will be you Bully Ray, getting one more chance at redemption against Kurt Angle…and the winner will take on Brock Lesnar at Ultimate Fortune for the Franchise Wrestling Inc. Undisputed World Championship! What do you think about that?!"
The fans go nuts as they cheer for the recent announcement made by co-owner Shane Douglas. Kurt Angle is livid as he stomps his feet and shouts "NO". Bully Ray stands in the ring with a very confident and happy grin on his face. It's official, Bully Ray has gotten his rematch! He will face Kurt Angle next week at Evolution and if he can beat him, he will get his hands on Brock Lesnar at Ultimate Fortune for the FWI World Title!
Jerry Lawler: "Oh my gosh, did you hear that? Am I hearing things, Cole?!"
Michael Cole: "Who's it going to be? Who wants it more? Who is hungry for Brock Lesnar and the FWI World Championship at Ultimate Fortune?! Only time will tell, see ya next week!"
Just then Shane Douglas face disappears and instead it's the official FWI logo that appears up on the titantron to close out this Evolution Episode 006.
——————————————————————————————————————————–